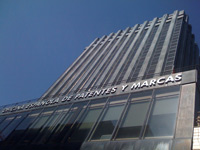 A PATENT is a title that recognises the right to exclusively use an invention for a limited period of twenty years, preventing others from manufacturing, selling or using it without the authorization of the titleholder and therefore the right to use the patented invention recognises the right to exclude third parties from manufacturing, using or introducing the product or the patented process in a free market.
REQUIREMENTS OF AN INVENTION PATENT
World novelty
Inventive activity
Industrial applicability
PATENT DURATION
An Invention Patent lasts for twenty years, commencing on the date the application is submitted and shall be legally maintained by paying an annual fee from the moment it is granted.
PATENT APPLICATION
In order to apply for an INVENTION PATENT to be registered, you simply need to send us:
The FACTUAL BACKRGOUND that exists in a relevant market according to the applicant.
A DRAFT describing the purpose of the invention, highlighting the element of novelty that is to be protected, outlining how it works and its application.
Some explanatory DRAWINGS with consecutive numerical references of the main parts or components.
DESCRIPTION of "the preferred embodiment of the invention".
Applicant identification information.
Signed statement from the inventor, according to format available at this link.
Signed authorization, according to format available at this link.
You can leave the rest to us, we shall prepare the file and you will have nothing to worry about. (Once out technical team has prepared the report, we will send it to you by email, together with the final plans for the titleholder to review before we officially submit the file).