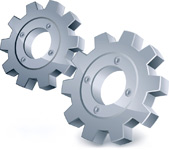 The Utility Model is a way of providing an object with a configuration or structure that results in a use or practical operating advantage over what is already invented.
The Utility Model protects inventions with a lower inventive range than the Patents.
PATENT DURATION
The exclusivity period for Utility Models is 10 years from the date they are officially filed. The validity is conditioned by the annual payment of specific maintenance fees.
Within approximately three months of the application, the claims and drawings are officially published in order to establish a two month period of public opposition and once said period elapsed without oppositions or objections, the official concession takes place.
Utility Models Application
In order to apply for a UTILITY MODEL to be registered, you simply need to send us:
The FACTUAL BACKGROUND that exists in a relevant market according to the applicant.
A DRAFT describing the purpose of the invention, highlighting the element of novelty that is to be protected, outlining how it works and its application.
Some explanatory DRAWINGS with consecutive numerical references of the main parts or components.
DESCRIPTION of "the preferred embodiment of the invention".
Signed authorization, according to format available at this link.
You can leave the rest to us, we shall prepare the file and you will have nothing to worry about. (Once out technical team has prepared the report, we will send it to you by email, together with the final plans for the titleholder to review before we officially submit the file).