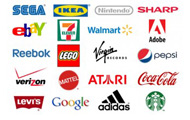 Commercial names are distinctive signs aimed at identifying a person or legal entity exercising a business activity and distinguishing this activity from other identical or similar ones belonging to others in the sector. In ALVAMARK we perform a preliminary free study with the aim of obtains results from files with identical names of Commercial names that are currently registered with the aim of establishing the chances of success of said name.
Solely by officially registering the name obtain the exclusive use right, which has a double purpose:
On the one hand the right to the exclusive use of said Commercial Name in the marketplace.
On the other hand to prevent third parties from using it in Spain and applying it to identical or analogous business activitiess.
REGISTRY DURATION
These Commercial Names are protected, as with trade marks, for a period of 10 years commencing on the date of completing the application and can be renewed indefinitely.
INDUSTRIAL PROPERTY OFFICIAL AGENTS
ALVAMARK, as official agents, manages not only the presentation of all necessary documents before the relevant public bodies, but also the surveillance on a daily basis as well as providing correct advice with the aim of obtaining the appropriate registration protection for the client.
DAILY FOLLOW-UP AND SURVEILLANCE
From the moment the application is submitted and thanks to its human and technological resources, performs DAILY FOLLOW-UP AND SURVEILLANCE PROCEDURES of each and every one of its files, from the application stage, through all the procedures and the whole registration process, as well as defending the file if applicable, through to the concession of the same, informing of possible new applications, carrying out appeal or objection procedures and controlling publications that could affect our clients' files.