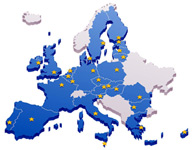 A COMMUNITY TRADEMARK is a sign susceptible of graphical representation serving to distinguish a company's products or services from those of other companies.
In ALVAMARK we perform a preliminary free study with the aim of obtains results from files with IDENTICAL names of Community Trade Marks and even Commercial Names that are currently registered.
ONE SOLE APPLICATION REGISTRATION
The COMMUNITY TRADEMARK system enables a trademark to be registered within a community territory via ONE SOLE APPLICATION, given that it is based on the principles of Unit and Autonomy, therefore granting the titleholder with a unitary right, valid in the 28 member States of the European Union:
Germany
Austria
Bélgium
Bulgaria
Cyprus
Croatia
Denmark
Spain
Slovakia
Slovenia
Estonia
Finland
France
U. Kingdom
Greece
Hungary
Ireland
Italy
Latvia
Lithuania
Luxembourg
Malta
Holland
Poland
Portugal
Czech Rep.
Rumania
Sweden
ADVANTAGES
his system has a great economic advantage given the protection received through a single trademark registration for the whole of the European community.
Now applying for COMMUNITY TRADE MARKS is even more beneficial than ever given the huge REDUCTION IN FEES recently approved by the European Committee and the member States of the Union.
We are able to apply for community trademarks directly before the OHIM given the proximity of our offices to the Office for Harmonization in the Internal Market, as well as the fact that our lawyers and Agents are authorized in said organization.