"Alvamark, Industrial Property Technology Law Firm"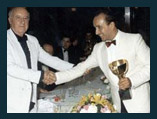 We are a technology law firm founded in 1926, specializing in Industrial and Intellectual Property and New Technologies. We have a large team of professionals, lawyers, official industrial property agents, engineers, etc. that strive, on a daily basis, to offer an efficient, fast and personalised service for every client
OBJETIVES
To inform companies of the importance of Industrial Property Law for heritage and differential value matters, essential in today's market and vital when it comes to structuring strategies on a short, medium and long term basis.
SERVICES
At ALVAMARK we are committed to offering our clients all the services expected of a technology law firm specializing in Industrial Property Law.
As well as offering all types of official services related to the protection of Invention Patents, Utility Models, Industrial Designs, Trademarks and Commercial Names in Spain, this law firm also carries out regular procedures around the world in both industrialized countries as well those with emerging markets. Important multinational companies entrust us to carry out procedures in our country on a daily basis, for example validating their registrations in Spain.
OFFICIAL REPRESENTATIVES
It is important to bear in mind that the analysis and assessment with regard to issues related to Industrial Property must be entrusted to experts in the subject matter, which is the case with the members of ALVAMARK, authorized INDUSTRIAL PROPERTY AGENTS, members of professional authorizations and officially appointed in order to act directly before national and international Bodies such as:
Spanish Patent and Trademark Office (OEPM)
World Intellectual Property Organization (WIPO)
European Patent Office (EPO)
Office for Harmonization in the Internal Market (OHIM).
And members among others of: